We are excited to have three of our students graduate this year.  Edwin and James graduated from high school and Nick received his Associate's Degree from Georgia Highlands College.  James will be leaving for the United States Marine Corps in August.  We are very proud of all three of these young men who have been with us for several years.  They've reached this milestone and it has been a joy to have them as part of the Calvary family.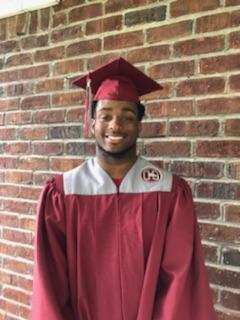 Edwin McKenzie graduated from Hillgrove Highschool this May.  Edwin has been a beloved resident of our children's home for more than ten years.  When thanking our many supporters, we often say it takes a multitude of caring hearts to shoulder the precious load of a child's life whose parents are not able to care for them.  Edwin is a picture of all that those caring hearts have accomplished.  Edwin is a gracious and compassionate young man who is gifted athletically.  We have loved watching him catch those touchdown passes, hit those home runs and guard that basketball rim. His coaches, sponsors, teachers and our staff all share in our pride as we watch this young man grow.
Edwin is going to attend Chattahoochee Technical College in the Fall. He is unsure of his career pursuits at this time but is certain he wants to do his best and find what the Lord created him for.  We love you Edwin and are so proud that you are a part of our family!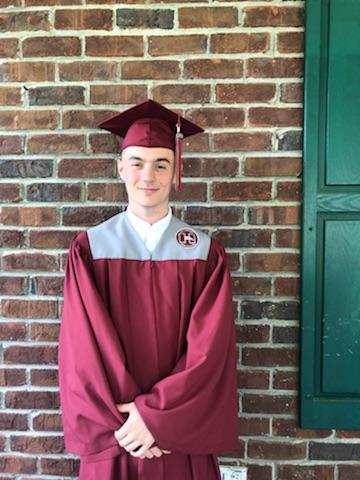 James Toland Brown also graduated from Hillgrove Highschool with Edwin this May.  James faced enough challenges in his childhood to sink a mighty ship.  By God's great Grace instead, he is sailing beautifully.  James enlisted in the United States Marine Corps and leaves for boot camp in late August.  James has long been a very popular child with our other residents.  He is a "you first", kind of guy who has taught himself how to play the guitar and is working on some piano skills.  James songs have echoed through our hallways for years and we will surely miss him when he leaves. James has a unique laugh that is priceless to us.  When James is laughing, we all laugh with him.
James intends to return to Calvary on his breaks from the Marines which makes our hearts smile.  This will always be home James!
James brought to our home contagious joy. We love you and could not be more proud of your decision to serve our Country.